Burrows Cabinets makes custom cabinets and storage solutions for home builders using the finest materials and workmanship.
Why is Burrows Cabinets Your Best Source for Builder Direct Cabinetry?
Burrows Cabinets selects superior grade materials and high-end components and hardware for our home builders' cabinets to ensure that customers receive a product they are proud of and that will remain beautiful for many years. Find out more about our top-grade materials and construction methods on our Quality tab.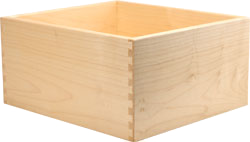 Burows Cabinets' employees are hired for their skill, experience and dedication to fine woodworking. The lasting quality and beauty of our cabinetry is a direct reflection of the experienced craftsmen working here. Much of our business comes from referrals as a result of the quality of our products and the value of our service.