Kitchen Cabinet Design – Island Options
Because the kitchen island is fabricated separately and set apart visually from the rest of the kitchen, it is an area that can be easily customized to add color or playful design elements, give the kitchen personality and show a homeowner's personal style.  In the past, kitchen islands were typically made using the same materials, cabinet door designs, and colors as the perimeter cabinets, however today it is common to see different counter top and cabinet door materials, stain or paint colors, and even different cabinet door styles on the island to add interest to the kitchen design.  This trend is seen in eclectic, country kitchens as well as upscale, elegant kitchens.
Burrows Cabinets offers a number of kitchen island design options to customize homeowners' space.   Below are a number of kitchen island ideas to consider for use in your cabinet project:
Small Corner Posts can be used to dress up a kitchen island while still maximizing precious cabinet storage space.  Burrows Cabinets offers two corner post options, Tuscan (shown below left) and a more detailed Colonial design (shown below right).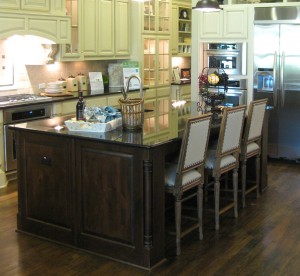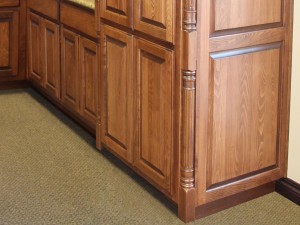 Large Corner Posts can be used to dress up island corners, as island bar overhang supports, or to flank the corners of a bumped out cabinet or a farmhouse style sink base.  Islands with Monaco Posts are shown below left.  Less ornate Shaker Posts are also available and are shown below right.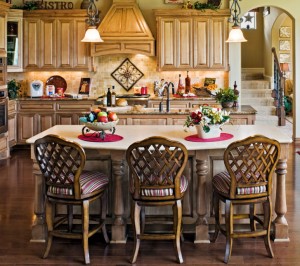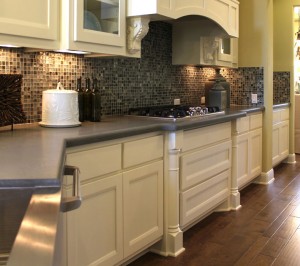 Paneled Ends can be used in place of flat, laminated veneer finished ends to dress up the sides of an island.  The gray island shown above left and the three islands shown below with integrated corners all have Paneled Ends.
Integrated corners can be used in a similar way as island posts to add interest and detail to cabinet corners.  Burrows Cabinets offers three integrated cabinet corner options:  the 100 (beaded) shown below left and center, 110 (smooth-rounded) shown below right and 120 (scalloped) shown on our cabinet options page.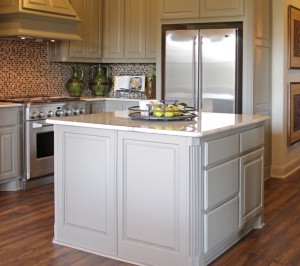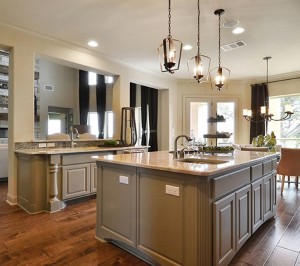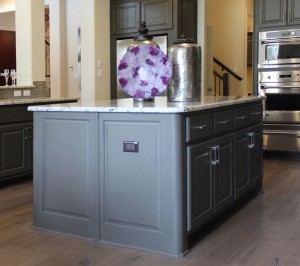 Cabinet Bunn Feet (shown below) and Cabinet Pedestal Feet create a traditional, freestanding furniture look for your kitchen island.  Burrows Cabinets offers two Bunn Feet options and five Pedestal Feet options.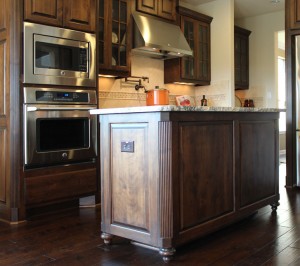 A kitchen island is a smart choice for wine storage because it moves the wine away from the heat of the oven which is typically on a kitchen perimeter cabinet, it creates an upscale look and it keeps the wine accessible in the room where bottles are typically opened.  Our Big X wine storage racks can also be used for bottled water (we store big bottles of Smart Water and Italian Soda in ours), cookbooks and decorations.
Wine storage options from Burrows Cabinets include the popular Big X wine rack (shown below left), lattice wine rack, (shown below center), scalloped wine rack (typically used in upper cabinets) and wine refrigerators (below right) supplied by the home builder.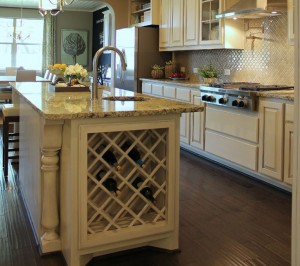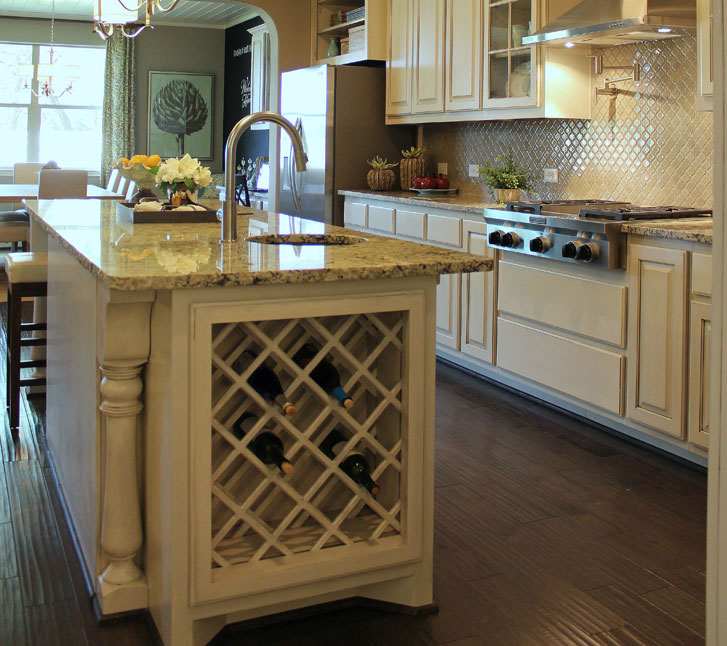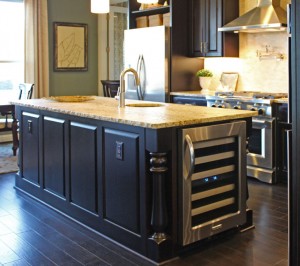 Island bookshelves provide space for cookbooks, seasonal decorations, bowls and pitchers, collectibles,etc.  Double bookshelves can span the entire length of an island or a single, small bookshelf can be placed on an island end.  Below are examples of Burrows Cabinets' island bookshelves from new home builders' model home kitchens in central Texas.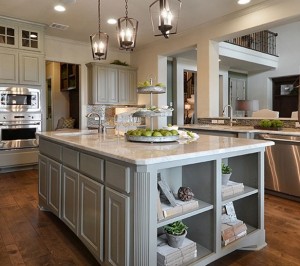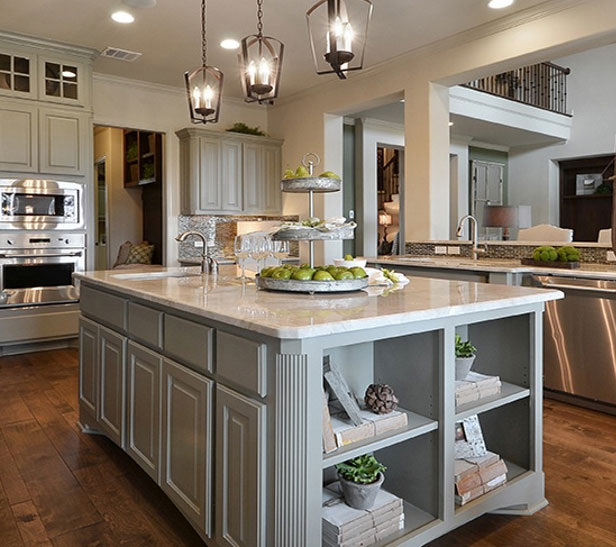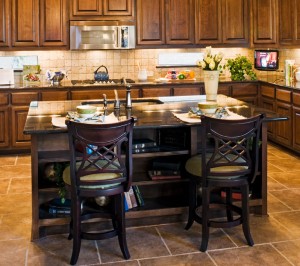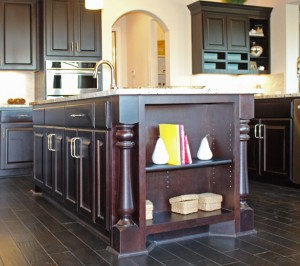 Bumped up or bumped down cabinets are often used on kitchen islands to create a raised eat-in bar or lowered island table (shown below left) and bumped out base cabinets can be used to visually break up a long stretch of cabinets or to frame a farmhouse sink (shown below right).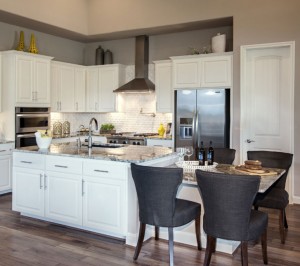 Many designers today use contrasting color on kitchen islands and perimeter cabinets, putting a bold or neutral color on the island paired with complimentary color on the surrounding cabinets.  Burrows Cabinets' designers also specify a large number of stained wood islands and painted perimeter cabinets and vice versa to keep the warmth of the natural wood while adding paint color as a design element to break up the monotony of having one color in such a large space.  Below are a few beautiful examples of Burrows Cabinets' kitchens with contrasting island and perimeter cabinet colors for design inspiration.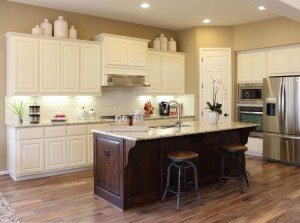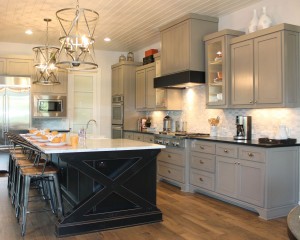 On an island bar, Bar Brackets provide functional counter top support and they add an appealing design element.  Burrows Cabinets offers Bar Brackets (also known as corbels) in 4 sizes from 6″ to 12″ in depth and height.  Burrows Cabinets' twelve inch Bar Bracket is shown on the island above center.
Other useful island options we've added to custom cabinets include pull out refrigerator drawers and dishwasher drawers, built-in desks, built-in dog kennels, and pop up appliance storage.
If you have any island design ideas to add to our list please share them!  We would love to hear from you.
Burrows Cabinets
https://burrowscabinets.com/wp-content/uploads/kitchen-island-bookshelf-ecru-tmenrh.jpg
547
616
oz
https://burrowscabinets.com/wp-content/uploads/burrows-cabinets-diamond-logo-50-year.jpg
oz
2014-09-30 14:56:52
2018-04-24 06:20:02
Kitchen Cabinet Design – Island Options