Burrows Cabinets offers home builders two turnkey cabinet lines to fit different design preferences and configuration needs: Frameless EVRGRN and Face Frame.

EVRGRN is Burrows Cabinets' new trend-forward, engineered-wood cabinet line that pairs the beauty and texture of the most sought after, natural wood grains and sophisticated colors with the durability, performance and visual consistency of cutting-edge, engineered material. View our EVRGRN product descriptions, door style selections and color options above and view our Face Frame Line Here.
Burrows Cabinets Frameless EVRGRN cabinet line is:
Full Access: EVRGRN cabinets feature true European frameless construction for a clean, modern look, full access to cabinet interiors and full use of drawer space. Full access cabinets are easy to clean with a quick swipe of shelves that have no outside lip to trap dust or crumbs.
Durable: EVRGRN properties include scratch, wear and stain resistance. EVRGRN hardware options include drawer guides rated to 75 pounds, with optional soft-close, undermount designs.
Stable: EVRGRN products use an engineered core material that is strong, stable and resistant to changes in temperatures and humidity and is resistant to warpage, expansion and contraction.
Consistent: The color, grain, texture and performance of EVRGRN products is reliable and consistent. Frames and ends match doors perfectly every time. EVRGRN is free of defects and if a door or drawer front needs to be replaced or more cabinetry added in the future, the new product will be a consistent match to existing cabinets. Our state-of-the art CNC machines produce precise, tight size tolerances on our EVRGRN cabinets and cabinet doors.
Visually Stunning: EVRGRN is a beautiful engineered wood product that features sophisticated European styling and three-dimensional, grain-matched texture on our woodgrain options. EVRGRN materials come in rich, earthy browns, warm grays, dark charcoals and a variety of light and dark wood tones, as well as color options that are timeless, on-trend and serve as versatile backdrops for interior design palettes.
Customizable: Pull outs and organization inserts are available in our EVRGRN line to make the most of cabinet space and create time-saving, organized rooms.
Environmentally Responsible and Sustainable: EVRGRN products are CARB compliant and emit much lower VOCs than traditional finished or painted wood products, with no gassing of the finish and core materials. EVRGRN cabinet boxes, door frames and panels are manufactured using recycled and recovered wood materials. Burrows Cabinets' EVRGRN cabinet line offers dozens of customization and organization options, adjustable shelves, and the high quality construction and service Burrows Cabinets is known for.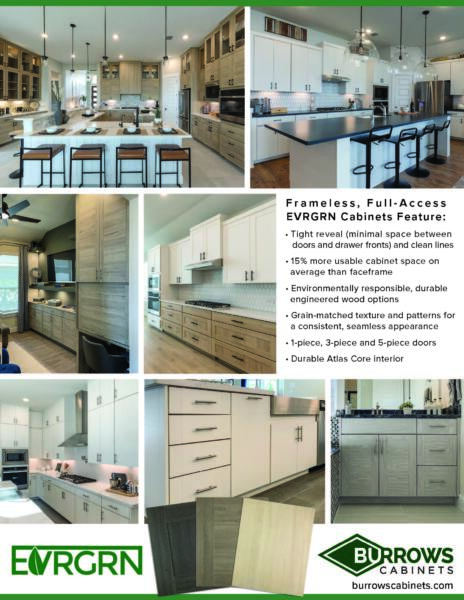 Burrows Cabinets is a wholesale, builder-direct interior cabinet manufacturer. If you are a homeowner, please contact your home builder or visit their design center for specific information on the cabinet options, door styles, wood species and finish options specific to your community. Some options are available only in select communities.