Burrows Cabinets offers home builders both Frameless EVRGRN cabinets and Face Frame cabinets to fit different design preferences and configuration needs.

EVRGRN is Burrows Cabinets' new trend-forward, engineered-wood cabinet that pairs the beauty and texture of the most sought after, natural wood grains and sophisticated colors with the durability, performance and visual consistency of cutting-edge, engineered material. EVRGRN cabinets now include our Atlas Core cabinet box, a commercial grade, ¾" construction, full-access box.
View our EVRGRN door style selections and color options using the photo links above and view our Face Frame Cabinets Here.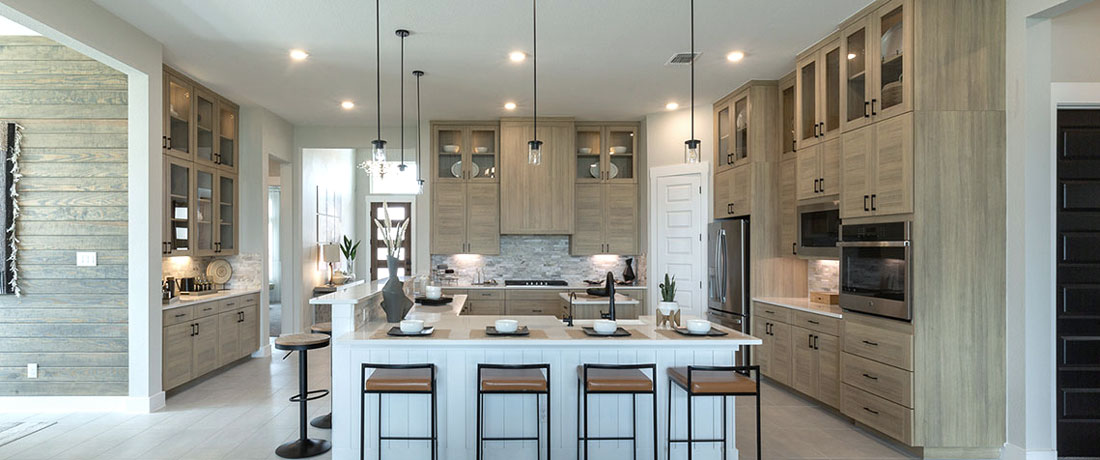 Burrows Cabinets Frameless EVRGRN cabinets are:
Durable: EVRGRN products are UV coated for color stability, and resistant to scratches, fingerprints, and UV rays. The durable surfaces withstand rigors of today's construction processes and high-use areas in the home.
Stable: EVRGRN products use an engineered core material that is strong, stable and resistant to changes in temperatures and humidity and is resistant to warpage, expansion and contraction.
Sustainable: We use Eco Certified Composite (ECC) grademark products in our EVRGRN cabinets. These materials reduce carbon footprint, use local and renewable resources, and a minimum of 75% recycled/recovered fiber.
Consistently Beautiful High-End Materials: The nature inspired color and grain is made using micro-precision, synchronized wood texture, and grain that is perfectly matched and indistinguishable from sawn hardwood, without undesirable inconsistencies found in sawn lumber products.
Reliable Lead Times: High automation and frameless construction create a product that is available with shorter lead times compared to conventional cabinet construction.
A Value Add: The durable material, box thickness and construction methods used in our EVRGRN cabinets along with the Atlas Core, deliver unmatched quality and value to the home.
Customizable: Dozens of EVRGRN customization and organization options are available to make the most of cabinet space and create time-saving, organized rooms.
Full Access: EVRGRN cabinets feature true European frameless construction for a clean, modern look, full access to cabinet interiors and full use of drawer space. Full access cabinets are easy to clean with a quick swipe of shelves that have no outside lip to trap dust or crumbs.
Burrows Cabinets is a wholesale, builder-direct interior cabinet manufacturer. If you are a homeowner, please contact your home builder or visit their design center for specific information on the cabinet options, door styles, wood species and finish options specific to your community. Some options are available only in select communities.