Ensure your cabinets look beautiful for many years. Prevent your cabinets from exposure to moisture and excessive humidity. Damage from moisture can result in blushing of the topcoat, deterioration of the finish, or black stains in the wood.
Moisture damage is easily minimized or even eliminated simply by being aware of certain items:
Sink cabinet: Take the time to wipe away all water that splashes over the front of the cabinet.
Cabinetry around a coffee maker: Steam coming from a coffee maker being vented directly onto the upper cabinets may blush the finish. If possible, the coffeemaker should be located with clearance overhead.
Cabinetry around dishwashers: Loading or unloading a dishwasher can cause water to splash onto the nearby cabinetry. Take time to wipe away all water on surrounding cabinets.
Bath cabinetry: Ensure your bathroom is properly vented. Venting that meets current code is adequate and satisfactory.
Seasonal changes: While excess humidity from wet seasons will not directly affect the finish, it can contribute to other situations, possibly aggravating them. More likely, wood being a natural product, you might see some seasonal movement; i.e., swelling of doors and drawer fronts in the warmer, humid months, and shrinkage when the weather turns cooler and drier. If this normal condition is unacceptable, climate control in the form of a dehumidifier can help. At the other end of the spectrum (with dry weather, wood stoves, certain heating systems) is a lack of moisture. Although the cabinetry finish is unaffected, extreme dryness could lead to excessive shrinkage, splitting or even popped joints. A humidifier is recommended to help correct this situation.
Relative humidity of 40-60% is considered ideal for woodwork in the home.
Burrows Cabinets uses an advanced finishing process and product with coatings designed to protect the finish and allow for easy cleaning.
There is no need for harsh chemicals for cleaning Burrows' Cabinets.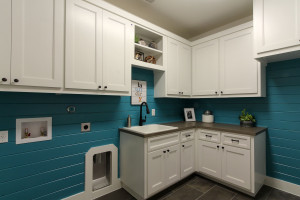 To care for your cabinets:
Do not leave wet or damp clothes, towels, etc. lying or hanging on cabinets or cabinet doors.

A soft cotton cloth is recommended to wipe any moisture, spills or standing liquid from your cabinetry as they occur. While paper products are very good at absorbing spills, they are abrasive when used for cleaning. Use a white t-shirt, similar soft cloth or microfiber cloth that is damp (not dripping) for normal cleaning and then finish and dry with a clean white cloth if needed.

Avoid using scouring pads or powdered cleansers. These may scratch and penetrate the surface, allowing food or moisture to enter and cause deterioration of the finish.
Do not allow oven cleaners or other caustic cleaners to touch the cabinets. Follow instructions carefully for self-cleaning ovens and other kitchen appliances around cabinets.
Avoid dry dusting. Dust and other airborne particles can be abrasive. Dry dusting abrades the finish and causes tiny scratches. Over time, these scratches will change your cabinets' appearance, especially in high use areas.
Do not, under any circumstances, use anything abrasive, as this will scratch, dull, and potentially shorten the life of the finish.