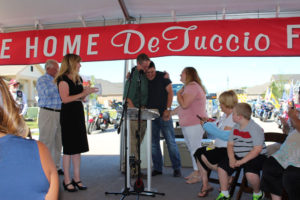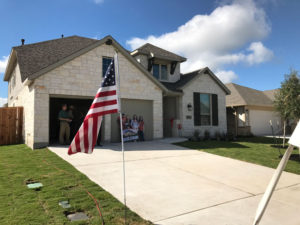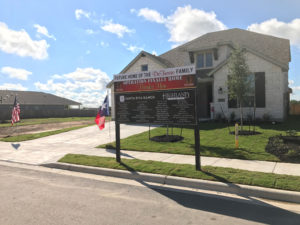 Burrows Cabinets was honored this year to be a part of our second "Operation Finally Home" build, creating a mortgage-free, new home for a very deserving military family. The home is located at Santa Rita Ranch in Liberty Hill and was built for Purple Heart recipient, U.S. Army Spc. David DeTuccio and his wife and four children. The DeTuccio's received keys to their new, fully-furnished home June 29, 2017.
DeTuccio, joined the military in 2007, and in 2008  he was deployed to Baghdad, where his unit completed raids and extractions in the mountainous terrain. On Feb. 19, 2008, they were ambushed outside their compound. A rocket-propelled, improvised explosive device hit DeTuccio and he was taken to Balad Air Base trauma center where he underwent multiple surgeries and therapy.  DeTuccio suffered shrapnel wounds, severe PTSD, memory loss, headaches and seizures.
When asked what receiving this home will mean to his family during an interview with TexasSports.com, DeTuccio said,  "It will change our family lineage. When you don't have an expense, such as a mortgage, you can spend that extra money on education. Now I feel I can ask my kids, 'What do you want to be—a doctor, a lawyer—those now become possibilities.'"
The first Operation Finally Home build Burrows Cabinets was a part of was completed in Fall 2016 at Paloma Lake. The home was built for Nick and Shelby Nelms, who have two children, and who both suffered combat injuries when serving in Afghanistan. Nick is a combat medic and when the truck Shelby was riding in on a mission was hit by an improvised explosive device (IED), Nick was in another vehicle in the convoy. He ran to the truck Shelby was in and found her injured, and helped her to safety. Nick and Shelby were married later that year after returning to the USA.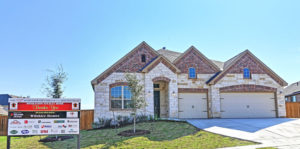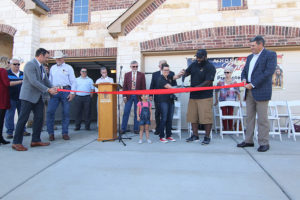 Burrows Cabinets is grateful for the privilege to be one of the many contractors, suppliers, donors and the community who contributed to honoring these military heroes and their families with mortgage-free, custom-built, beautiful homes, including custom cabinets throughout. We are grateful to our employees for your hard work and quality of craftsmanship on the products in these homes, and every home our products go into.
Words are not enough to express gratitude for the sacrifices made by our military personnel. If you'd like to find out more about Operation Finally Home visit
https://www.operationfinallyhome.org/
https://burrowscabinets.com/wp-content/uploads/bc-operationfinallyhome-7684.jpg
433
650
oz
https://burrowscabinets.com/wp-content/uploads/burrows-cabinets-diamond-logo-web.jpg
oz
2017-06-30 07:41:29
2018-04-24 06:19:58
Operation Finally Home