Layering textures and using different shades of the same color can make a room more calming, inviting and interesting, and keeps a room from feeling flat and boring.
Burrows Cabinets' new
EVRGRN color, Luxe
, has a subtle, straight-grained texture that adds depth and visual interest that can make the difference between an ordinary space and one that is unique and extraordinary. Shown below are Burrows Cabinets in EVRGRN Luxe with 3-piece doors.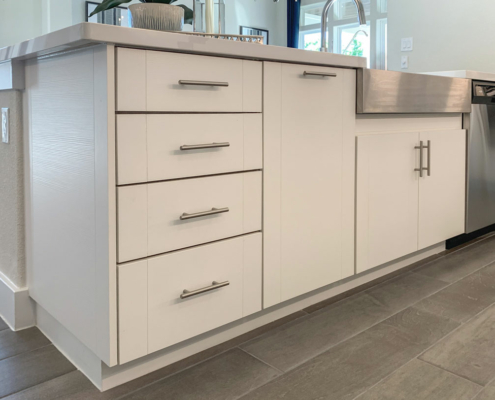 Luxe is a versatile, neutral white – not too warm or cool in color – and it provides just the right amount of texture to balance out smooth, shiny surfaces in kitchens, bathrooms and other rooms.
Luxe works well in modern settings, especially with 3-piece or 1-piece doors and in traditional and transitional interiors with 5-piece, 3-piece or 1-piece doors.
View a sample in person to see and feel the subtle texture!